SHIFT13mi
"Couldn't you build a notebook too?" Yes! We can. The SHIFT13mi is a high-quality detachable device that was developed using all of our smartphone know-how. The result is an innovative device with high-performance hardware and aesthetic design.
#shifthappens!
SHIFT13mi
"Couldn't you build a notebook too?" Yes! We can. The SHIFT13mi is a high-quality detachable device that was developed using all of our smartphone know-how. The result is an innovative device with high-performance hardware and aesthetic design.
#shifthappens!
This characterizes our SHIFT13mi
Powerful thanks to 11th generation intel processor (tiger lake).
Available both as single tablet or in a bundle (with keyboard, pen and FlexCase).
SHIFT keys: Universal 5-in-1 keyboard with charger, power bank and USB hub.
Designed in Germany/Falkenberg and fairly manufactured in our own factory in China.
Silent use thanks to hybrid cooling architecture and manual fan control.
The SHIFT13mi is currently still available at a pre-order price (from EUR 1111).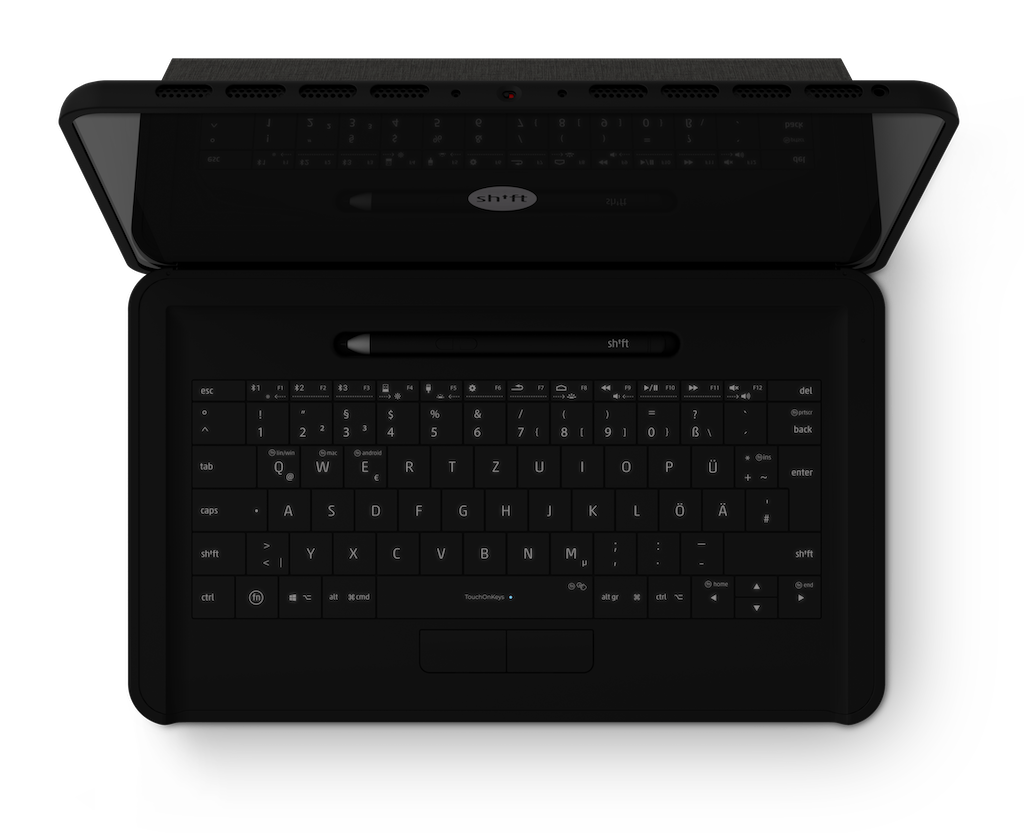 HINWEIS: SHIFT13mi noch im Projektstatus!
Das SHIFT13mi befindet sich in der Finalisierungsphase. Geräte der 1. Generation wurden bereits versendet. Ein Versand der finalen Gerätegeneration planen wir derzeit für Ende September 2022. Sämtliche Infos über die letzten Schritte der Produktion und den anschließenden Versand findest du auf unserer SHIFT13mi-Statusseite.
Impressions of the SHIFT13mi
SHIFT13mi bundle – technical details
Equipment / accessories
The scope of delivery of the SHIFT13mi bundle includes:
– the tablet unit (the actual SHIFT13mi)
– the keyboard unit SHIFTkeys (hub, 10-finger multi-touch surface, keyboard, multi-charger and power bank)
– the Active Pen SHIFTpen
– a power supply
– a USB-C-C charging cable
– the FlexCase, a folding case including a bumper, which holds the tablet and the Keyboard combined into one device.
Other optional accessories for the SHIFT13mi have not yet been determined, but are possible.
Battery pack
We cannot yet make any final statements about the battery life of the SHIFT13mi, as the battery consumption depends on several factors. The consumption is influenced by the final drivers, the selected operating system, but of course also by user-specific factors such as display brightness, apps used, connected devices, etc. We will be releasing more information about this in the coming weeks.
Display
The SHIFT13mi has a 13.3 inch FullHD (1920x1080px) display with a format of 16:9. The display is easily exchangeable because the SHIFT13mi, like our SHIFTPHONES, is modular. This is primarily for easy repairs. The display will initially only be available in one version. In the future, we may implement an anti-reflective coating or a clear or matte display using various bulletproof glasses. A clear bulletproof glass is included in the delivery.
Camera
The SHIFT13mi has a HD front camera with a kill switch. A rear camera is not installed.
Connectivity / Connections
Die Tableteinheit des SHIFT13mi hat vier USB-C Ports davon sind zwei Thunderbolt 4. Über jeden der Ports kann das SHIFT13mi aufgeladen werden, aber am besten hält man die Thunderbolt-Ports für den Datentransfer frei 😉
Zusätzlich befinden sich vier USB Typ-C Ports in der Tastatureinheit SHIFTkeys. Diese sind aber keine Thunderbolt-Ports. Tablet und Tastatur besitzen keine USB-A Ports. Wir entwickeln daher zurzeit einen USB-C-A Adapter, womit man dann den Typ-C Port in einen Typ-A Port wandeln kann. Außerdem arbeiten wir an einem Hub, der dann u.a. HDMI, Displayport, USB Typ-C und Typ-A zur Verfügung stellt. Es kann aber auch jeder andere USB-Hub genutzt werden.
Das SHIFT13mi besitzt keinen integrierten LAN Anschluss, kann aber ebenfalls über z.B. USB Typ-C auf Ethernet Adapter genutzt werden. Als drahtlose Verbindungen stehen Wifi 6 und Bluetooth 5 zur Verfügung.
Zudem verfügt das Tablet über einen microSDKarten-Slot in der Tableteinheit, sowie zwei M.2-SSD-Slots, wovon einer bei Auslieferung mit einer 512 GB SSD belegt ist und der zweite Slot als Speichererweiterung dient.
Kopfhörer und Headsets können über den 3,5mm Audio-Anschluss mit dem SHIFT13mi verbunden werden.
Einen SIM-Kartenslot für Mobile Daten besitzt das SHIFT13mi nicht, dafür kann dann einfach der Hotspot, z.B. deines SHIFTPHONEs, genutzt werden 😉
Keyboard connection
The SHIFTkeys keyboard can be connected to the SHIFT13mi via radio, Bluetooth or USB.
Killswitches
The SHIFT13mi has two kill switches. One can be used to turn off the camera and microphone and the other to disable the fan.
Memory / Processor
Memory (RAM) and processor (CPU) are not interchangeable. In the tablet form factor, there is currently only the option of soldering the RAM and CPU permanently due to the design. However, by replacing the mainboard, we will be able to upgrade the main memory, for example.
Hardware replacement / Upgrade option
This can be done individually with us. To upgrade, there will be the option of replacing the mainboard at a later point in time, as mentioned in the topic of main memory/processor. Due to the modularity of the SHIFT13mi, the subboards and other components can also be exchanged, especially for repair purposes. The SSDs are of course also interchangeable. In principle, you can always return all of our devices to us and upgrade to other models so that they can be used for as long as possible and everyone has the device they need.
Active Pen
The SHIFTpen is powered by a replaceable AAAA battery.
Operating systems
The first SHIFT13mi ships with Windows 10. According to the current state of knowledge, it is also suitable for Windows 11. We are also creating a ShiftOS based on Linux.
Fan concepts
The SHIFT13mi is optimized for passive cooling. This means that it can be used normally without a fan and is therefore completely silent. The heat pipes built into the tablet and the selected housing materials ensure that the heat is quickly distributed and dissipated. A fan is still installed so that even more performance of the SHIFT13mi can be used. This can be activated with a switch to support the air circulation in the device and thus dissipate more heat.
Recycling chain / Materials
When developing the SHIFT13mi, as with all our devices, we focus on modularity and, where possible, on fair production and raw material extraction. We make sure that fair raw materials are used and that conflict raw materials are either avoided or otherwise compensated. Both the people involved in production and nature are very important to us. We take our principle of "doing as much good as we can and doing as little damage as possible along the way" very seriously when developing and manufacturing new devices. Due to the modularity, individual parts can be separated according to type and reused sustainably. Like all our devices, the SHIFT13mi will also have a device deposit.